M164-1
The simulator that gives you Realistic and Best medical training!
●Weight/Approx. 6kg ●Case size/W65×D58×H28cm
●Accessories/Tablet PC, Wi-Fi router, Stethoscope, Chest cover, Wireless speaker, strage bag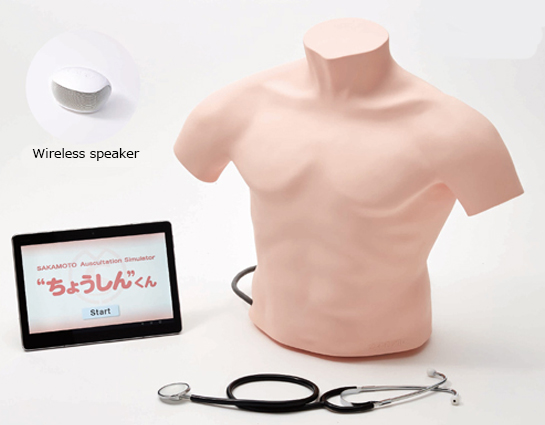 By reproducing various symptoms, supports practice of auscultation with a feeling of being in a clinical situation.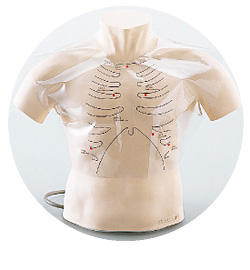 Chest cover(Indicate ausculatory site)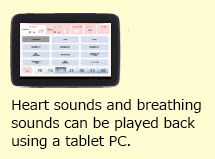 ---
Feature
1. Learning through practice with a sense of reality
Sternum and soft touch of the skin
Seven built-in speakers (volume adjustable) p rovide true-to-life experience of h earing cardiac and breath s ounds of a ctual patients by applying a stethoscope.
2. Realistic auscultatory sounds
Reproduction of complicated cases is possible by combinations o f 20 cases of cardiac sounds and 12 cases of breath sounds.
A tablet PC can be used to realistically check differences in ascultation sounds for each case. Practical clinical training with areal s ense of p resence which is ideal for learning a scultation techniques. H eart sounds and breathing sounds can be p layedback via a tablet PC as well as directly from the body
3. Adjustable to details
The heart rate and respiratory rate are adjustable.
The volume of cardiac and breath sounds is adjustable in each r egion (cardiac and pulmonary regions) or all regions.
---
Practice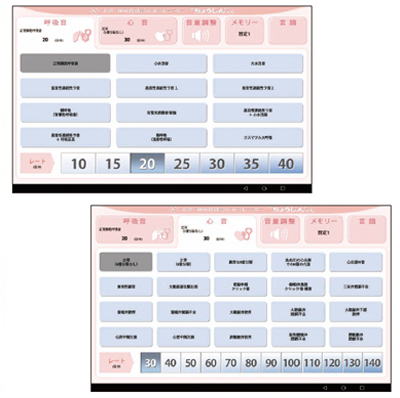 Breath sound
Major Category
Minor Category
Disease
1
Normal alveolar breath sound
Normal
2
Intermittent rales
(moist rales)
Fine crackles
Interstitial pneumonia, pulmonary fibrosis /pulmonary edema
3
Intermittent rales
(moist rales)
Coarse crackles
Pulmonary edema, pneumonia, alveolar effusion
4
Continuous rales
(dry rales)
Low pitched rhonchi (sonorous rhonchi)
Stenosis of middle-large bronchi, bronchial secretion
5
Continuous rales
(dry rales)
High pitch rhonchi,wheeze 1
Bronchiolar stenosis, brochial asthma
6
Continuous rales
(dry rales)
High pitch rhonchi,wheeze 2
Bronchiolar stenosis, brochial asthma
7
Tachypnea
Consonating rales
Nervous dyspnea
8
Intensified bronchovesicular sounds
Resting dyspnea
9
Continuous rales
(dry roles)+
intermittent rales
(moist roles)
High pitch rhonchi, wheeze+fine crackles
Cardiac asthma
10
Continuous rales
(dry rales)
High pitch rhonchi, wheeze+prolonged exhalation
Bronchial asthma
11
Abnormal respiratory pattern
Tachypnea
(shallow respiration)

Central hyperpnea (midbrain disorder) hyperventilation syndrome
12
Abnormal respiratory pattern
Kussmaul respiration

Diabetic ketoacidosis, uremia
Cardiac sounds
| | | | |
| --- | --- | --- | --- |
| 1 | Normal (no splitting of the second sound) | 11 | Mitral stenosis |
| 2 | Normal (split second sound) | 12 | Mitral insufficiency |
| 3 | Abnormal split second sound | 13 | Aortic stenosis |
| 4 | Increased apical second sound in hypertension | 14 | Aortic insufficiency |
| 5 | Apical fourth sound | 15 | Subaortic stenosis |
| 6 | Innocent murmur | 16 | Atrial septal defect |
| 7 | Aortic ejection sound | 17 | Ventricular septal defect |
| 8 | Mid-systolic clicks | 18 | Pulmonary stenosis |
| 9 | Mitral escape clicks /murmur | 19 | Acute mitral insufficiency |
| 10 | Tricuspid insufficiency | 20 | Pulmonary insufficiency |