M100-5
Seamless Bathing • Care for Elderly • At-home Nursing Training Model

Accessories: Pajamas / baby powder



---
Movie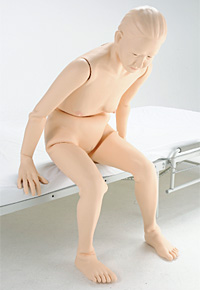 For elderly care training in good relations
The Sakamoto Models "KOHARU" doll was made with the desire to help people understand the necessity of tenderness and affection when nursing. The skin quality, facial expression, movement of joints in each body part, figure, etc. are so real, it seems as if it were really alive. The feeling that you are really treating the elderly naturally brings tenderness and a smile when training.
We have reproduced the bending of the back peculiar to the elderly.
In order to make it similar to the movements of the elderly, the back is made so that it can bend forward, making realistic training possible such as when seating in a wheelchair.
The movement of legs and hip joints are smooth.
Forward/backward and outward movement of the legs are more practical, and the hip joints open widely. Realistic training in helping excretion using a stool or toilet is possible.
Durable yet easy-to-handle skin material.
The skin is made of high-quality silicone, and can be used freely with a shower, sponge, or detergent.
Joints are made subtle, hardly noticeable.
Since it is seamless, training in bathing can be done safely and smoothly.
---
Feature
1. The head moves in all directions (front, back, right, left).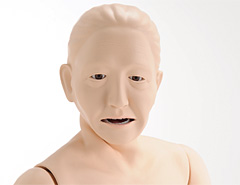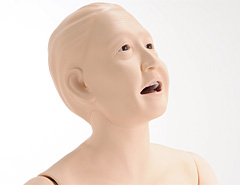 The head moves not only front and back, but also right and left, making practical training possible as if on a real human body. Additionally, you can practice removing artificial teeth and care of the mouth.
2. Movement of the joints are more real.
A bone structure is built-in. Each joint in the shoulders, elbows, wrists, hips, thighs, knees, and ankles move rather stiffly as in the care of actual elderly people. Training in exchanging pajamas and bedding, bathing, and cleaning can be done more realistically.
---
Practice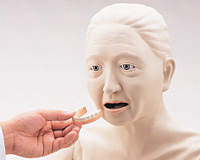 ●Oral care practice
Rhythmic lifestyles
Dentures are removable, and oral care can be performed.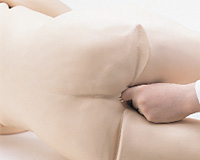 ●Training in excretion and urination
Master appropriate assistance through realistic training
Forward and backward as well as outward movement of the legs can be done freely, and the hip joints open widely. It is possible to practice not only assistance in excretion using a stool or toilet, but also in removing excrement from the anus.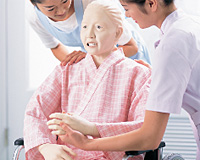 ●Training in wheelchair assistance
The lively facial expression nurtures good relations.
The joints in the hips, knees, and ankles bend, making it possible to learn smoothly the way to offer wheelchair assistance.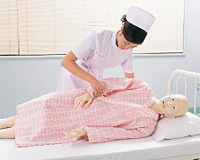 ●Training in changing position
Realistic training through natural movement and poses
Due to the new function in the joints of each body part, assistance in getting up to prevent bedsores, balance in sitting, and changing position can be offered more realistically.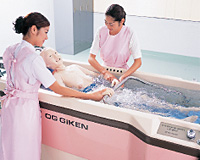 ●Training in bathing
The skin is close to the actual human body resulting in tender feelings
The entire body is silicone, seamless, and full-waterproof. When practicing bathing (whole or partial), it is possible to put in actual hot water. Can also use a shower, sponge, or detergent.
---
Specifications
| | |
| --- | --- |
| Height | 150cm |
| Weight | Approx.12kg |
| Material | Silicone |