M107-3,4
Bathing model (boy)(girl)

Umbilical cord, Baby powder, Baby clothes, Simulated loose excrement (yellow), Container for mixing simulated loose excrement, Muddler for mixing simulated loose excrement, Tray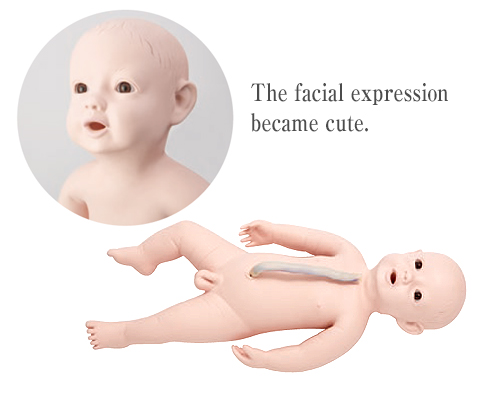 Umbilical cord (fit-on & off available)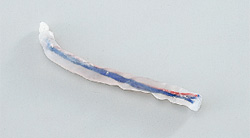 ---
M107-5,6
Bathing model -Blue eyes-(boy)(girl)

Umbilical cord, Baby powder, Baby clothes, Simulated loose excrement (yellow), Container for mixing simulated loose excrement, Muddler for mixing simulated loose excrement, Tray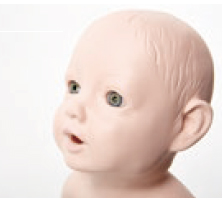 The limbs have seamless structures.
The head moves in every direction. (Please hold the model by supporting the head as you would do in holding a neonate.)
The weight of the head has the same proportion as that of a neonate.
The anterior fontanelle and ribs can be palpated.
Water infused into the mouth flows out from the urethra so that changing diapers can be practiced.
Simulated soft stools can be used to carry out cleaning training.
Feature
Renewed more like newborns with weak neck muscles.
---
Movie
Practice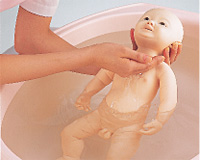 1. Bathing
Bathing is an important item of practice of maternal nursing and is an infant-care skill that must be taught at maternal classes. The "Baby" is nearly a life-size model of an infant with a soft skin and gives a very real feeling in washing it.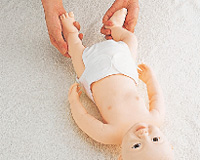 2. Simple baby exercise and feeding
The baby can be fed by having it hold a feeding bottle in its mouth. Water infused into the mouth flow out from the urethral orifice, so that changing of diapers can be practiced realistically.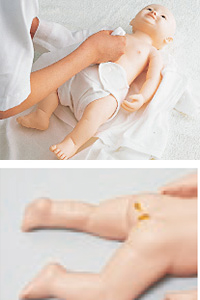 3. Dressing / undressing and changing diapers
The baby has wider ranges of joint motions than earlier models, and it can simulate cooperative limb movements in changing clothes. In changing diapers, it gives a feeling very close to lifting the buttocks of a real neonate.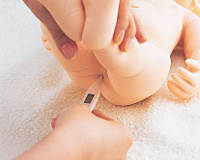 4. Anal thermometry and various measurements
Since there is the anal orifice, anal thermometry and anal stimulation can be practiced. The baby is recommended also for the practice of various body measurements such as the height, body weight, head girth, and chest girth.
Others
Usable also for the practice of umbilical treatment, cleaning of the acoustic meatuses and nostrils, and guidance at infant screenings.
---
Specifications
| | |
| --- | --- |
| Height | 49cm |
| Weight | About 3.3kg |
| Material | Silicone |