M197
Weight: Approx. 2.42kg 
Case size: W69×D39×H19cm
Accessories:Ultrasound pad ×2, normal pad ×2, M197 vascular tunneler, baby powder, measuring cup, storage case Approved by: Department of Advanced Nursing Technology, Graduate School of Medicine, University of Tokyo
Dr Ryoko Murayama
Department of Gerontological Nursing/Wound Care Management, Division of Health Sciences and Nursing, Graduate School of Medicine, University of Tokyo 
Dr Hiromi Sanada
Dr Koichi Yabunaka


For venipuncture training using ultrasound guide and visually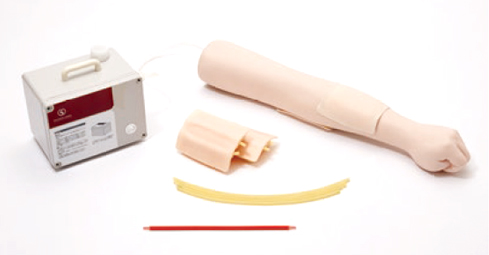 ---
Feature
Two types of t raining can be carried out at two places.
Venipuncture training using the ultrasound guide with an ultrasound pad and palpation of veins and venipuncture training using a normal pad can both be carried out.
Puncture traces do not remain in ultrasound images
Needle traces after puncturing do not remain in ultra sound images, so that repeat training is possible.
---
Practice
| | |
| --- | --- |
| Venipuncture using the ultrasound guide | Ultrasound image of ven ipuncture |
| Venipuncture using normal pad | Indwelling of butterfly needle using normal pad |
Vein replacement and pad replacement are both easy to do.
---
Replacement parts
Replacement vein (A) 100 pcs
Replacement vein (B) 100 pcs
※The pads can also be replaced.