M163
Miss-swallowing simulator
Weight: About 12kg
Case size: W70 x D39 x H40cm
Accessories: Transparent cover, Pillow, Bolus model with wire, Baby powder, Storage case
Supervision: Associate Professor Hiromi Obayashi, Toyohashi Sozo University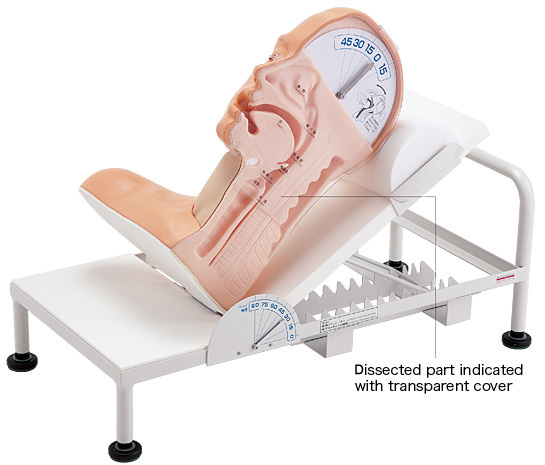 Learn the mechanism of swallowing, and practice practical way of preventing miss-swallowing!
This Swallowing Mechanism Model is a medical teaching equipment that was developed with the purpose of helping helpers learn the mechanism of swallowing and the proper method of preventing swallowing disorders (miss-swallowing) when giving assistance in eating. It should help prevent pneumonia caused by swallowing disorders which is often overlooked in caring for the elderly.
---
Movie
Can confirm the condition of the tube inserted through the nose, while observing the angle.

Can learn intermittent tube eating method, while observing the angle.

Can grasp the condition of eating by use of bolus model.
Mouth care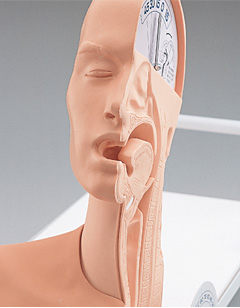 The tongue is soft and able to pull out. Can have swallowing drills, study the tongue and muscles surrounding the mouth, and practice absorption.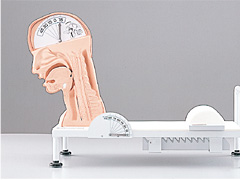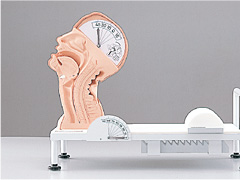 Neck angle (head angle) can be bent about 15° forward and about 45° backward.
Can comprehend the relation between neck angle (head angle) and movement of windpipe / esophagus.
---
Practice
Study the mechanism of swallowing
Learn what causes miss-swallowing
Study proper posture when eating and its relation with bed angle
Study neck angle (head angle) and its relation with miss-swallowing
Practice emergency care when food gets stuck
Swallowing drills and practice in giving mouth care
Learn how to insert tube through nose, and the intermittent tube eating method
Study internal mouth absorbency
Key point for eating posture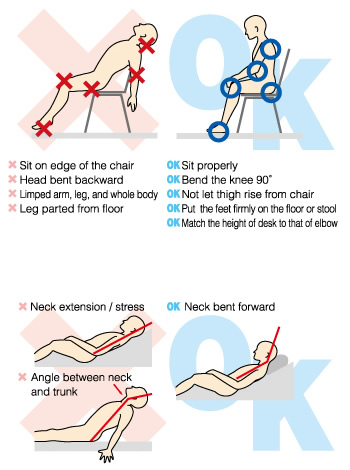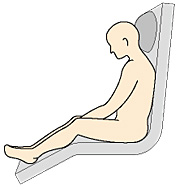 Suggested posture of Zimmerman
(Quoted from Zimmerman JE, 1981)
With pillow under head, bend neck
Bed bent up (80-)90゚
Example of proper posture when eating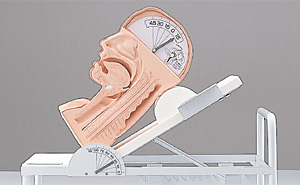 bed angle 30° • neck angle (head angle) 15°