M153
Weight: About 2kg
Case size: W50 x D35 x H15cm
Accessories: Belt, Drain bag, Transparent package, cardboard case



Practice gluteus injection skill by palpation. (Shibusanbu* method)
*Upper Outer quadrant of Buttocks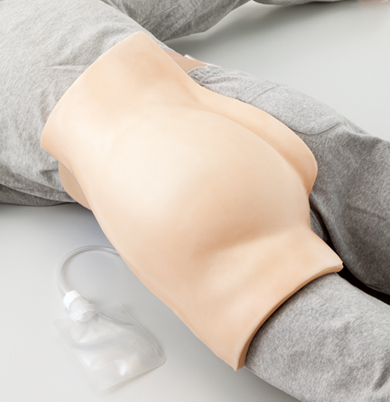 ---
Movie
---
Feature
Students can train in pair playing the role of nurse and patient alternately, and this wearing type enables to compare with real body.
As ilium crista , greater trochanter and iliac spine are built in, confirmation and practice for gluteus injection skill by palpation available.
Touch of skin and frame that are very close to living body contribute greatly to learn gluteus injection skill.
The flashing red light and the chime warn in case of miss injection to incorrect point or too deep injection though done to correct point. The green light turns on incase of correct point.
The surface is so similar to the real skin for its specific process that no needle mark remains though repeatedly used.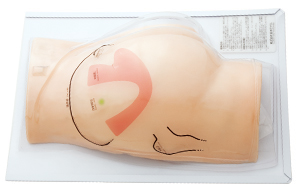 The drawing of injection site is written on a transparent package.
Practice
By palpation, injection training to correct site is possible.

Water (tap water only) can be infused.

By using the package, practice can be made alone.